• 2023 • 4th of July • Memorial Day • Summer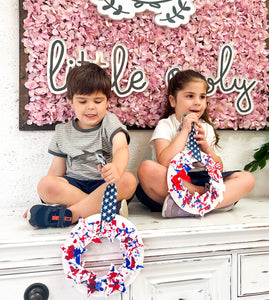 Celebrate Memorial Day with patriotic stars wreath painted in red, white & blue!
---
• 4th of July • Crafts • Creative Circle
Happy 4th of July! Time to celebrate America's birthday and take part in festivities such as fireworks, parades, family and friend gatherings, concerts and much more! 
We love incorporating hands on crafts to teach little one's and we decided to make an American Flag craft with pom poms to celebrate and add some fun decoration to our home this year.
---
• 4th of July • Crafts • Creative Circle • featured • Holiday • Memorial Day
Enjoy celebrating this Memorial Day holiday with a fun and easy patriotic star craft while teaching your little ones the meaning of this day and how to honor our military.